A Complete Guide to New Jersey Car Titles
The car title proves that you're the legal owner of your vehicle. If you bought your car in New Jersey, the title should have been given to you during the sales process. It looks like this: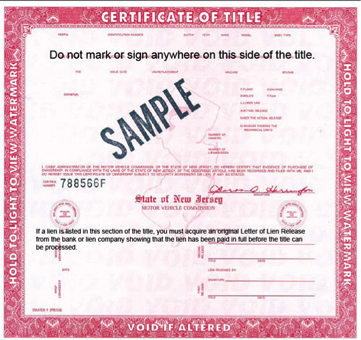 And contains this identifying information about your car:
Vehicle Identification Number (VIN). Every car has a VIN that's unique. It's usually 17 characters long and is used to track vehicle's insurance policies, accident reports, and/or any maintenance that's been done on your car. It looks like this:

Year, make, model, engine and transmission types

License plate number

Owner's name and address

More technical information about your car, like its purchase price, weight, and power
Car titles do not have to be renewed. Your registration does, but more on that later!
What Do I Have to Know About Titles to Sell My Car?
Not much. Just follow this simple process:
Fill out the back of the title with your signature and the buyer's name and address

Sale date and purchase price

Odometer reading

Remove your license plates (you can choose to surrender or transfer them)

Provide the buyer with the completed car title  
When do you get car titles?
Car titles change hands when the vehicle is bought or sold from one party to another. States' title  requirements vary. The New Jersey Motor Vehicle Commission (MVC) handles car title transfers and registration. When you buy a used car in New Jersey, the seller of the vehicle must provide you with the car's title. It's the most important document you need from the person or place selling you the car. Be sure to fill it out with the seller and include:
Signature of seller

Date and price of vehicle

Odometer reading at time of sale

Buyer's contact information
When you buy a car from a dealer, the title should be exchanged during the sales process, but if you don't receive a title, it's important to get a one from the MVC within 10 days or you risk a penalty fee ($25)
Where Should I Keep my Title?
Somewhere safe that's NOT your glove box. Your title contains personal information, so if anything happens to your car, like it's stolen or even if you have a nosy passenger, you don't want your title lying around. This  is your proof of ownership and is necessary to make all transactions concerning your car.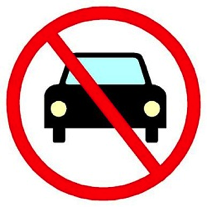 Things you SHOULD keep on your person or in your car include your driver's license, registration, and proof of insurance. Even though you can replace a title, it's not worth the hassle – put it somewhere other than in your car.
How Do I Replace a Lost or Damaged Title?
This will require contacting your local NJ MVC office either in-person or by mail. The fee for a duplicate title is $60. Make sure to bring/include:
Completed Application for Duplicate Certificate of Ownership (found on the MVC website)

Your registration paperwork

$60 fee

Your insurance paperwork
If you choose to request a duplicate by mail, send a copy of this paperwork, not the originals, to:
Motor Vehicle Commission
Special Title Section/Duplicate Titles
P.O. Box 017
Trenton, NJ 08666
You'll also have to replace a damaged title, but the process is a little different. You can visit your local MVC office or send a letter to the address listed above requesting a replacement title. You should provide this information:
Reason for damage

Your name and address

Description of your vehicle (VIN, make, model)

Damaged title

$60 fee
If you are requesting a replacement by mail, submit your information and replacement fee to:
Motor Vehicle Commission
Database Correction Unit
P.O. Box 141
225 E. State Street
Trenton, NJ 08666
"Gifting" a car and transferring your car title , are all quick and easy processes if you read up on the steps a bit first, so please stand by for more to come!